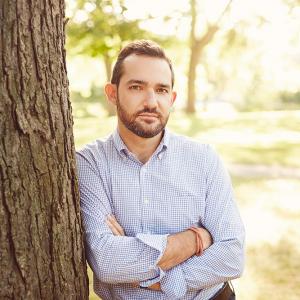 Jordan Nahmias
Artist member since 2018
Thornhill, Ontario
Jordan Nahmias is a photographer living and working in Toronto, Canada. Traditionally capturing images of places and things which he comes across in travel and daily life, Jordan's evolving practice uses photography to investigate history, memory and nostalgia while simultaneously speaking to issues of solitude, loss and abandonment. His most recent solo show was a part of Contact 2017, and he has participated in numerous curated group shows, including at Gallery 44, Red Head Gallery and Coldstream Gallery.
---
Describe your home in 3 words
Cozy, clean, quirky.
Favourite movie
The Big Lebowski
Coffees per day and from where
1, and I make my own!
How long have you been creating art?
10+ years
When I'm not making art, I'm (a) ...
lawyer
Why is it important for people to have art in their home or life?
It's important for people to have art in their home and life because art causes us to be present - we can, even briefly, leave aside the distractions of our workdays, family lives, and so forth, and instead pay attention to what is in front of us which, ideally, is an image/creation that we've chosen to live with and enjoy.
Upcoming Exhibitions
2019-02-22
Toronto
The Artist Project
Select Past Exhibitions
2017
Dimensions, Toronto
The New Old; Contact 2017
2017
Gallery 44, Toronto
On Process and Practice
2017
Coldstream Gallery, Toronto
This City II
2017
Scarborough Arts, Toronto
Scarborough Arts 31st Annual Juried Exhibition,
2016
Richard MacLaughlin Gallery, Oshawa
RMG Exposed
2016
Redhead Gallery, Toronto
Get Noticed
2015
The Spoke Club, Toronto
New and Unseen Works
Press
2018
Style at Home (Print)

2017
CBC (Online)
"Their challenge? Represent all of Toronto in a single photo"
2017
Toronto Guardian (Online)
"Inspiring Creatives from The Artist Project 2017 in Toronto"
2018
BlogTO (Online)
"Thirty Artists to Look For at The Artist Project 2018"
Education
2008
University of Toronto, Faculty of Law
JD
2005
Huron College at the University of Western Ontario
BA (Hons)
SHARE THIS ARTIST